Virtual education system with dedicated service is another service from Tehran LMS group in order to benefit more from higher education institutions, schools and professors from new educational systems (online school with online classes) on a monthly basis in packages with a number of users of 100 User up to 500 users simultaneously.
:The unique features of the dedicated e-learning service include the following
Dedicated domain *
Custom home design *
Dedicated logo registration *
Record contact information *
Virtual school *
Register social network links *
Insert links to your site or advertise courses and educational products of the institute *
 Communication with banking portals and online sales of courses and automatic registration of users after payment *
 The possibility of connecting the online school system with the SMS service to inform students *
Ability to provide the system in several languages (English, Arabic, etc.) *
 Register SSl protocol to increase system security *
 Communication with university registration systems *
Ability to connect to the system and online class with all windows and MAC operating systems *
Has a mobile application to participate in the class and review recorded videos on Android, IOS *
Ability to use the system without installing software using only Internet browsers *
 In the online school system, you can form educational groups and set up sub-categories for them, and like an educational institution, build classrooms and add students and teachers to online lessons, and appoint a manager for each department.
In the learning management system, each user has a special card that after entering the system can use the facilities provided by the system administrator.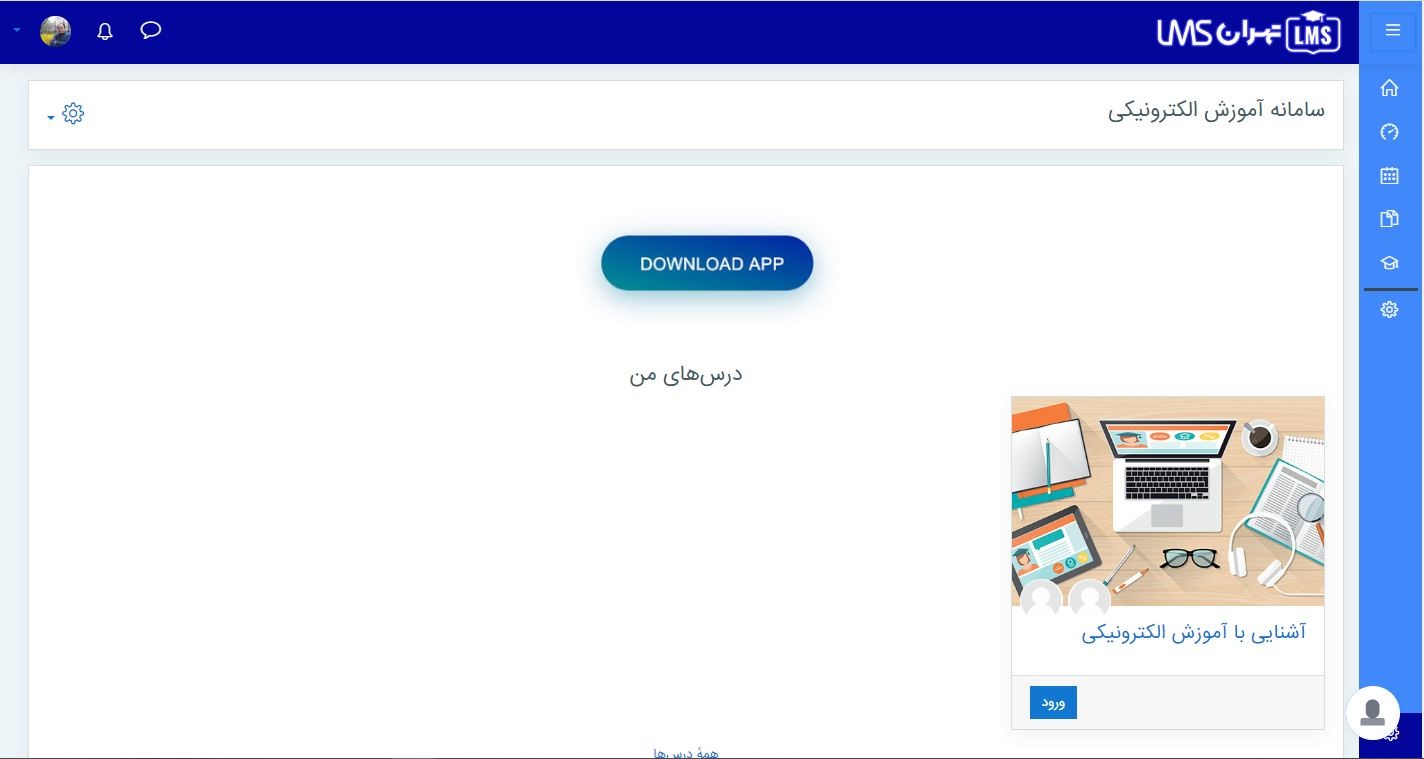 Virtual class facilities in the participants' portable include:
 Fully optimized environment for use on various platforms (mobile, tablet, laptop, computer) and various operating systems (Windows, Mac, IOS, Android) without the need to install software for students.
 Registered lessons
educational calendar
 Score book
Personal file storage space
:Online class facilities
 Among the facilities of the online classroom, we can mention the segmentation in each lesson according to the educational topics, which according to the topic of each session, add activities and educational resources in the online class to each topic (including online class, homework, exam). And ...) to be able to use the facilities for each activity or resource of students in the schedule done by the professors and the necessary feedback according to the educational settings which will be provided to the professors and educational administrators.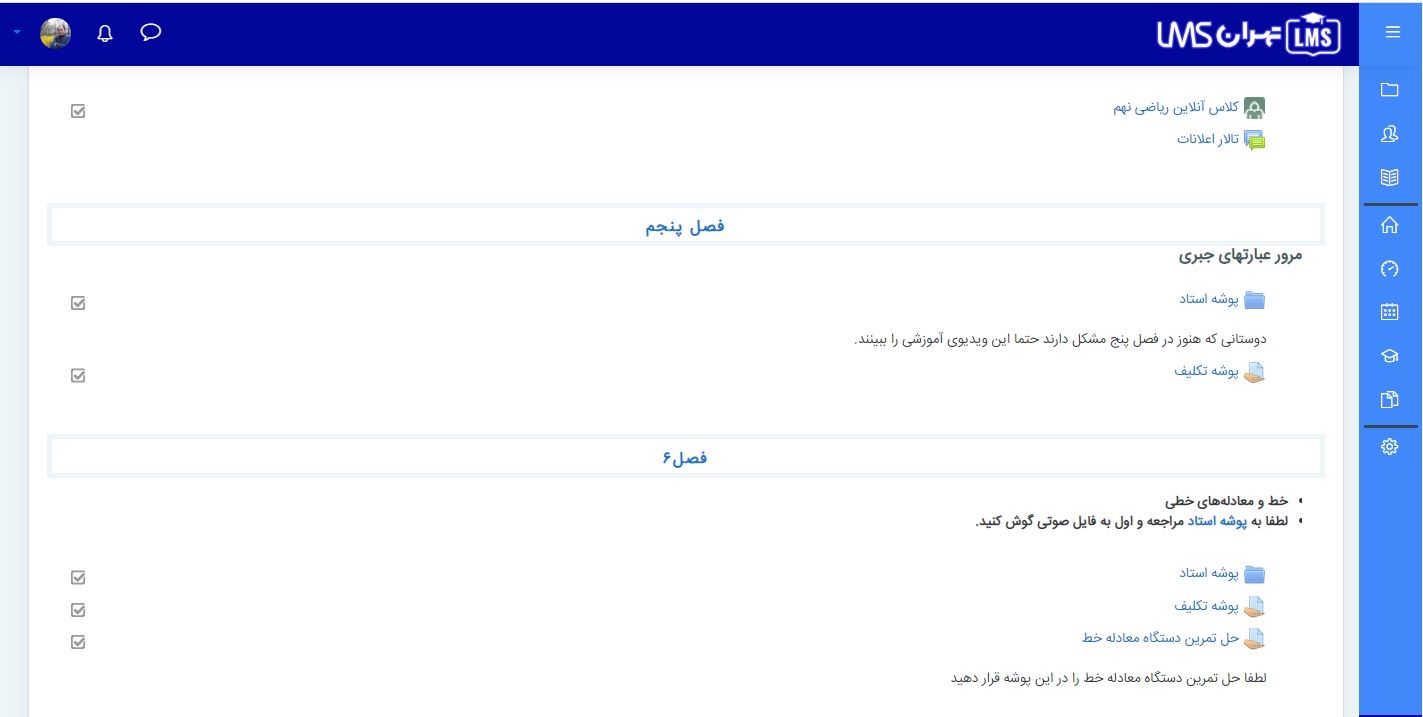 Online communication   
The most important and widely used activities used in the online class:
√ Virtual class:
Using this activity, professors and students can communicate with each other online in the popular Adobe Connect software space, share audio, video, desktop, whiteboard and files, and teach in a fully interactive environment. Be. Also, the recorded videos of the past online class sessions are provided to the students for review and these recorded videos can be downloaded and archived by educational institutions.
√ Test:
Using this activity, you can provide online exams and multiple-choice questions that allow you to take the test with features such as scoring immediately after the test, the exact date and time of the test, confusing questions, optional and descriptive questions, and more.
√ Foreign Activity:
External tool activity allows students to interact with educational resources and activities available on other sites.
√ Selection:
The selection activity allows professors to ask a question and provide several possible answers. 
√ Feedback:
With teacher Feedback Activities , Teachers can create a custom questionnaire to collect participants' feedback using questions of various types (including multiple choice, yes / no or text).
√ Database:
Database Activity Individuals can create and maintain a bank of recorded information (information records) and search through its data.
√ Forum:
The "Forum" activity allows participants to discuss asynchronously (discussions that take place over a long period of time).
√ Assignment:
Homework activity allows a teacher to assign tasks to students, collect work done, and ultimately provide students with their grades and feedback.
√ Text chat:
The chat activity allows participants to have a simultaneous textual discussion. Lesson evaluation form
√ Lesson evaluation form:
Assessment provides several types of study tools to assess learning and motivate it in virtual environments. Teachers can use these tools to gather information that will help them become familiar with their class.
√ Workshop:
Workshop activities Students' work can be collected and reviewed, and they can be asked to evaluate each other's work.
 √  Glossary:
Glossary activity allows participants to create and maintain a list of definitions (such as a dictionary), or to collect and organize resources or information.
Other activities include the Scrum package, course topics, and Wikipedia.
Price list of a dedicated service virtual education system